Gotta love the whackers!!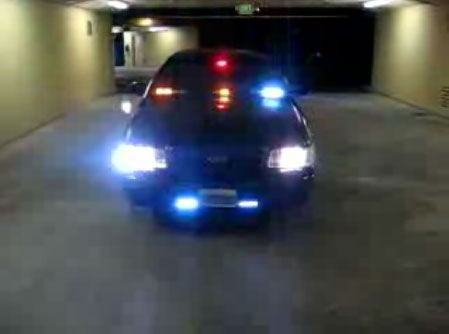 This guy, YouTube username scnermn2004 (first name Keith) – who would be declared the new king of the whackers, if his videos weren't so bone-chillingly disturbing.
A thread was posted about these videos on RR, but for some reason a moderator stepped out of nowhere and locked the thread for… well… for pretty much no reason.
Here's his first video.
Nice move, dipshit… Getting in the way of a high speed pursuit so we can hear you say dumbshit things like "fuck yeah", "go get 'em boy!" and "yeeeea".
Here's a great video of the geek's supersweet siren box install – in his glove compartment.
It goes beyond interfering with police chases.
Here's a video of his very nerdy, VERY illegal 'patrol' vehicle – at least he had the sense to shoot it in a parking garage and not out in public – probably too afraid of the homeboys icing him for being a cop wannabe, or just embarassed.
And now, he're the icing on this cake…. what do you do when you've got your car decked out with illegal lighting? Why, you weave around in traffic at night with your lights on! (complete with whacker music).
So, are these guys real cops? Of course not! Some Hamsexy members tried to send them messages through YouTube (on the videos that haven't had comments blocked). Skiatook911, who is a police dispatcher, was met with this message from him:
Thanks for the comments, wow i give you high praise for being a 911 dispatcher, I'm closer than you think to becoming a peace officer, so whacker will no longer be directed towards me, but thanks for the comment anyway, idiot.
We've brought dangerous whackers like this to justice before. According to his YouTube profile, he lives in Santa Cruz, California. We ask the many Hamsexy members and friends who are police officers, please get these guys off the road before they get hurt or hurt others. We've got a few police officers on this guy's case, so we'll see what happens when they contact their brothers in Santa Cruz.
We will keep you all updated as we find out more information.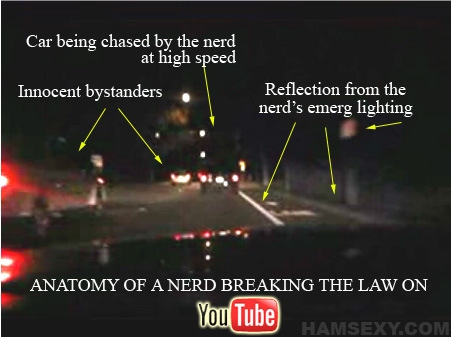 We had some technical difficulties, so we've lost the comments for this thread. Please re-post them!
We also want to thank the fine men and women at officer.com for linking to us, and helping us bring this guy to justice, or at least educate him on the dangerous errors of his ways.