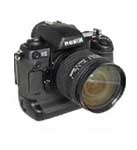 Hamfest season is just around the corner – and that only means one thing… hamfest photos! We've got operatives at most of North America's bigger hamfests, but we could always use a hand. If you've got a digital camera, bring it along with you to your next hamfest. you might snag some hamsexy gold for you and the rest of the internet's enlightened hams to chuckle at. If you do decide to snap a few frames for us, here are some guidelines:
Don't identify yourself as a photographer or representative of Hamsexy. Not only does it make us look bad if you decide to be an asshole, it could mean your ejection from the hamfest (it's happened before)
Don't pose shots. The best hamsexy photos are candids
Be discrete. Zoom in and get your shots from far away. Don't be in people's face with the camera
Please don't take photos of the interior of people's cars. I know we feature them here, but not only are they hard to pull off due to reflections, it's an invasion of privacy. Plus, if someone caught you doing it, they might kick your ass.
Don't worry about cropping, colour correction, removing faces/licence plates, etc. – we'll take care of that.
Take photos on the smallest possible resolution. We don't need high quality shots – 640×480 is sufficient.
Send them to our regular address, and also let us know who we are to credit the photos to, or if you want to remain anonymous. Thanks, and keep the cameras snapping!