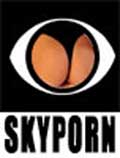 If there's one thing we can't get enough of on Hamsexy, it's 'chase vehicles'.
Skywarn is a great example of an organization full of people with weird, wild and wonderful 'storm chaser' rigs … a few rudimentary classes on what a wall cloud looks like and graduates are suddenly storm chasing experts, flush with a newfound entitlement to pollute the family minivan with lights, antennae and a laptop running a pirated version of GRLevel3 to magically turn it into a 'chase vehicle'. Most have no real idea of the dangers of speeding headlong into a storm …. they are more interested in having flashing lights, decals and radios in their car than really doing much good. Anyone who doubts us can tune into any Skywarn net during any of the 300 thunderstorms that happen in summers across North America….only if you are interested in hearing reports of 'rain' a hundred times an hour.
A good source of Hamsexy gold can be found in this thread, where storm chasers of all stripes masturbate to eachothers 'chase' vehciles, marvelling at all of the flashing lights they have.
The whole Skywarn mindset is summed up by a few messages in the thread, including this one by user "Chipper:"
The vehicles themselves range from pretty mundane to Hamsexy gold (even though some aren't even hams…. I guess they think that studying for the test would take away from valuable 'chase' time).
While most are pickup trucks, SUVs or even minivans, some are forced to make do with whatever they have at hand. Here's a great family truckster pimped out to be one hell of a sweet chase vehicle from Illinois….
[Image removed as per Hamsexy's Polite Request Policy]
Take note of he non-committal of the magnetic storm spotter decals… You know, just to advertise to everybody that he's on the case without actually committing to it (most likely so his insurance company won't find out that he's using his car to 'punch the core'. The luggage-rack mounted lightbar is also a nice touch… I'd like to see what happens when a strong storm wind gets a hold of that sucker.
[Image removed as per Hamsexy's Polite Request Policy]
Is this guy impressed with himself, or what?  ***OFFICIAL*** NWS Storm Spotter. Isn't that like being an ***OFFICIAL*** Union Pacific Railfan?
[Image removed as per Hamsexy's Polite Request Policy]
His radio rack is also pretty weak. Chickenband radio, FRS with aftermarket speakermike, and a couple of out-of-date scanners. The **OFFICIAL*** NWS Storm Spotter laminate is a nice touch, too – just in case the Tornado asks for identification before it tosses your car four miles into a beanfield.
But… what happens when you don't actually have your own chase vehicle? Do you just sit and read the Chase Vehicle thread with envy in your eyes… no way dude… fire up that pirated version of photoshop and lets start dreaming!!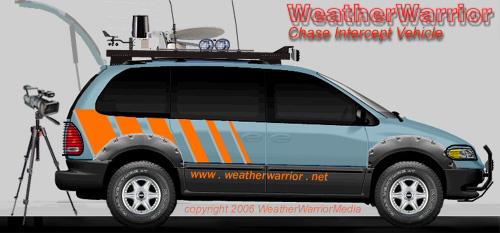 Behold… the Weatherwarrior. A blue soccermom cruiser with orange velocity stripes, random junk bolted to the roofrack, pointless smiles of sheetmetal slopily riveted over the tires, a badly drawn tailgate being held open with a giant tampon, and a $3000 pornocam attached to the rear bumper. The Weather Warrior's website is pretty funny too, but I'll let you guys visit that site on your own. To his credit, I don't see any lightbars or anything, but maybe Whelan's website was down when he was searching for stuff to cut and paste onto the Weather Warrior.
Or, if you like, you can take the minimalist approach: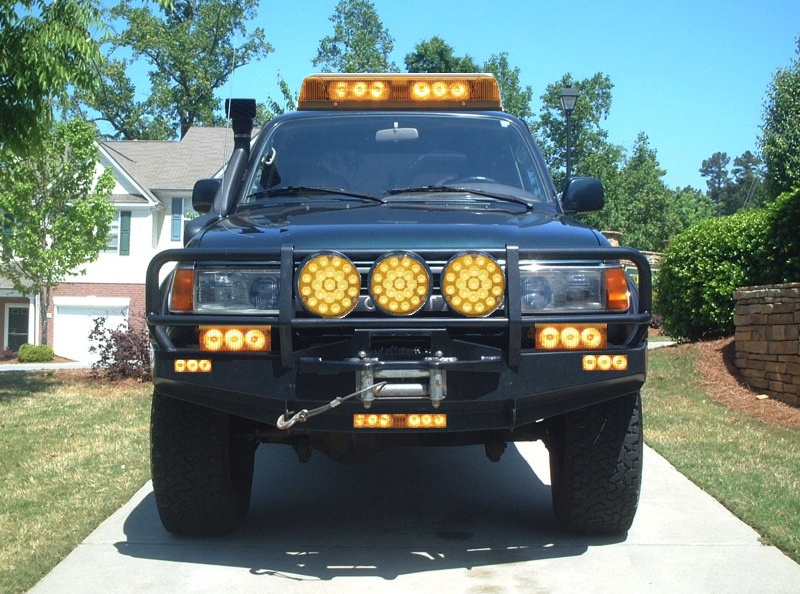 Orange lightbars…. three orange ocotpus suckers… And the same three-light element from the lightbar photoshopped on various places around the front of the truck. If only the emergency lighting equipment that he wants to attach to his truck actually existed, he'd have one sweet looking ride.
Lights, lights, lights. As long as the good Lord continues to smite our Earth with severe weather, there will always be storm nerds willing to toss some lights on their mom's car to go chasing after it. Here's a pretty cool photo of a storm chase vehicle posing in front of a sight few of us would ever be privileged to see: the birth of a tornado. The majesty of nature's might and fierce indifference nature holds towards us has absolutley no meaning to those who choose to see what they want to see in the world: