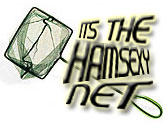 The Hamsexy Net was held, and hosted by K3BM with the following demented people stopping in to say hi.
N8FQ – Joe
KE4NOY – Matt from WARP-RADIO.COM
KD4YYF – John
KD8CPP – Tyler
KI4SVM – Patrick
KI4SKN – Tim
VE6PWT – Robert
KC8ZLK – Daniel
KB3AWQ – John
KD8EMM – Ryan
KI4MLM – Al
No real topic tonight, so we talked about what projects are going on and it was good to hear a bunch of hammies thinking about the general license. Getting on the air is the only way to start making the OF's either accept you or move on.
Catch you all next week !