It seems Clyde's article on Don Valley REACT didn't go un-noticed, the least of which on members of the group themselves.
Visitors to the Don Valley REACT website are greeted with an old-school scrolling Marquee that reads:
Seasons' Greetings – Merry Christmas, Happy New Year, all the best in 2007 – and a special welcome to all our hamsexy visitors, thanks to clyde mcphail PS: We apologize to Chief Molyneaux for the disrespectful treatment of his picture at the hands of clyde mcphail of hamsexy, we hereby publicly demand that mr clyde mcphail publicly apologize to Chief Molyneaux on the hamsexy web site for such childish, crude, boorish, unbecoming treatment of an honourable municipal Fire Chief with a long standing, distinguished career. PPS: We suspect and have reasons to believe that mr. mcphail actually pilfered the copyrighted original pictures from this web site and submitted his supposed "article" under the guise of an anonymous "submission", yeah right!
I spoke to Clyde regarding this, and he assures me that the submission and the attached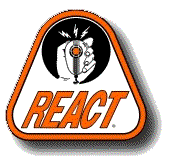 photos didn't come from him – they came from someone claiming to be a member. Clyde lives in the US, and doesn't know much about REACT groups up here in Canada. No one here at Hamsexy HQ knows anyone in Don Valley REACT, so we'll have to take our submitter's word for it. We've got other photos not posted on the website that we'll post later if we feel it's worth it.
They claim that "Cheif Molyneaux" was embarrassed by appearing on Hamsexy. I'm sure the crew of Don Valley REACT noticed that all faces were blurred out, and that Chief Molyneaux's identity was well hidden until they decided to blow the whole deal and identify him. Nice move. To be honest, I didn't really know who they were talking about until I looked REALLY close at one of the photos and saw that one of the indistinct figures with the blacked out face was wearing a slightly different hat and shoulder patch than the REACT team. I guess that was him, I dunno. I guess DVREACT was embarassed to see their photos on our site, and tried to accuse us of defaming some fire chief we've never heard of. I dunno.
Happy new year everyone!!