A Hamsexy coorespondant at the recent Rally of the Tall Pines in Bancroft, Ontairo (way north of Toronto in Canada) sent us this photo of some Rally hamsexyness.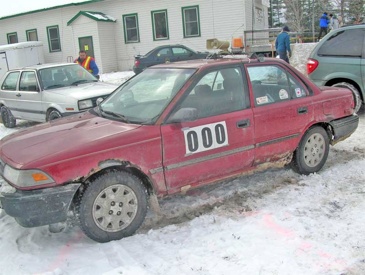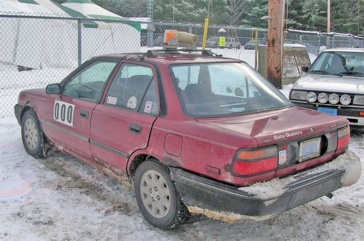 Our anonymous contributor writes:
This hamsexy mobile is one of a kind! POS comes to mind, rusty junker
almost knackerd a few spectators more then once. The guy wasent
needed, but they let him run anyways, I guess they didnt want to hurt
his feelings? You only need two cars for opening/closing stages – the
other two vehicles where quality, unlike this hamsexy whacker.
Radio mounted to a small piece of plywood, sitting on back seat.
Light and siren, both of which are unnoticable, are direct to the
cigarette plug.
Plenty of bags, food and garbage to go around.
Take the time to notice the heavy rusting, the "Baby Quattro" sticker
on the rear, as well as the duct tape holding on the numbers. Ghey.