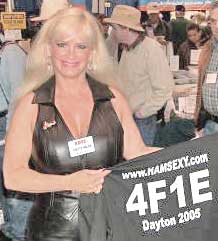 We've reserved the same booth at Dayton 2006 we had last year (inside the hall, near the ARRL), but we need your help to pay for it. If you can help, paypal what you can to [email protected]. We will be keeping a list of all those who donated, and will be thanking them publicly. Help Hamsexy keep it's controversial and always fun presence at the Dayton Hamfest!!
Also, we invite all Hamsexy friends in Southern Ontario and Upstate New York to join us in Toronto for our December Hamsexy North meet and drink! It'll be your last chance to buy Bryan VE3HBD a beer or tell him what a fat loser he is before he moves to Asia in January.
When: Tudesday December 6th 2005 at 7pm
Where: The Foggy Dew Irish Pub, on King street west of Bathurst
Justin VE3UDP is working on possibly arranging our own room, but we need an idea of who is going to show up.
Please RSVP this thread if you want to come. We're expecting hamsexy friends from across Canada and the USA to attend, and we'd like to see all local friends of Hamsexy there!