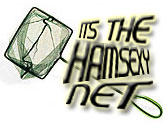 The Hamsexy Net returns for another week tonight…. This is the first week that we'll be using the IRLP/Echolink bridge, so you don't want to miss this monumental event.
There are two ways to access the net:
IRLP: Node 9008 (NEW NODE!!)
Echolink: *VAN-IRLP* (remember the asterisks!!)
If you don't have access to either IRLP or Echolink, or are a dirty non-ham, you can listen to the net on VE3NSV's live stream http://ve3nsv.no-ip.org:8000/hamsexy.m3u
Net starts at 9pm eastern (6pm pacific). See you there!