Because you asked for it, here are more Skywarn douche chills, brought to you by the fine folks at the Skywarn Online message forums.
Here's a video by a weather whacker who is in serious denial. First of all, he claims that his car isn't supposed to to look like an emergency vehicle, yet he has pointless emergency lighting displayed prominently in what he determines to be an "ideal flash pattern." Flash pattern for what…. letting the Wall Clouds know you're coming and to make way?
Look…. Storm Chasers are no different than any other breed of whacker out there, and here's why: civilians, especially those with such pointless hobbies as "storm chasing", have no more rights on the road than anyone else. If you feel the need to pull over to take photos of a funnel cloud, then put your four-ways on. The *only* purpose emergency lights serve on 'storm chaser' cars is the 'hey, look at me' factor… the same reason they plaster their car with "STORM SPOTTER" decals, license plates, etc. But hey, don't take my word for it. Here's a lemon wearing a condom to explain it further: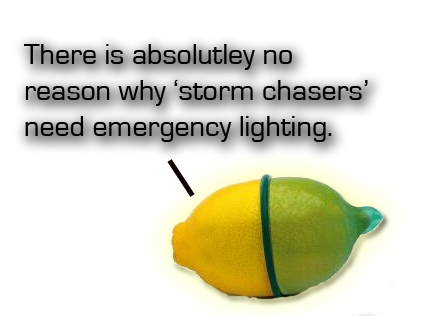 Here's another stormchaser truck, this time with a huge ugly lightbar.
All that's missing the rainbow flag, and it's ready for the pride parade.
Here's another video from Youtube, complete with some pretty dangerously mounted equipment.
This setup is proof that these weather nerds have never been anywhere near a real storm. Look at where those CB radios are mounted, with what appears to be a single screw on each side of a flimsy bracket mount. Any sort of good sized jolt will send those fuckers into someone's skull. And what's with the "SEVERE STORM COMMUNICATIONS" logo on the window… severe douche chills indeed.
The owner of the above truck is part of a couple of buddies who call themselves… get ready for this… SWAT… "Severe Weather Alert Team". Isn't that precious? I bet they wear matching uniforms, too. For info, here's their Myspace page.
If you've got more info in these or any other Whacker stories, email us!