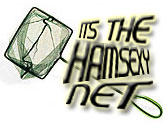 The Following people checked in to the net:
K3BM – Bob (Net Control)
VE6PWT – Robert
KD8CPP – Tyler
W8JUZ – Laura
KE4NOY – MATT ( our Warp-Radio connection)
KC8TCQ – Keith
KC0RBC – Hambone
N5API – John
KB3AWQ – John
The topic was why you aren't going to Hamvention and the best answer goes to Robert, VE6PWT who is reshingling a roof at his cabin.
The WORST answer goes to my protege, John KB3AWQ who is driving a carload of WACKERS to the Pennsylvania Fire Expo . Again I say, WACKER WACKER WACKER.
To you who can't come, sorry, hope to see you there soon, and those who are…
WOOO HOOOOOOOOOOO !!!!!!!!!!
Oh yeah, there was an emergency alert during the net, click here to hear it !