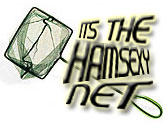 The Hamsexy Net is back!    
The net will begin at 9pm Eastern time, 6pm Pacific Wednesday on IRLP Reflector 9008 and Echolink conference *VAN-IRLP*.
Net control will be Bob K3BM, and our topic of the evening is whored right from the ARRL's weekly survey.
Do you think a digital mode will become so popular among hams it will overshadow CW, SSB or FM within the next 10 years ?