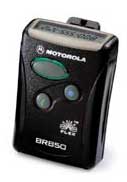 The topic comes up now and then – pagers on the amateur bands. It's a fine idea on paper, but unfortunatley some of the 'old guard' declare it illegal and blasphemy against 'all things ham'. It's an issue that will be debated until the end of time (or ham), and those brave enough to put such systems up endure the hang-wringing and cries of those who don't like to hear 'nuthin' but code and voice' on the bands.
Pager comms come in a variety of flavours and types – it can be as simple as DTMF or QuickCall to more exotic digital signalling modes such as MDC-1200, FLEX, POCSAG and GOLAY. Unfortunatley, some hams still consider digital modes on ham to be verboten (friends experimenting with digital voice on ham have run into this problem), so paging will never gain hobby-wide acceptance (unless it's SELCALLs oh-so-familiar to our resident Motorola geeks)
A few years ago I attempted to set up an incident alerting system on the ham bands – the plan initially called for incidents (to be sent via e-mail from a protected system) to be read over the air by a computer. While the plan seemed simple in it's concept stage, it ran into some friction from some local hams. Most of them weren't too pleased with such a new concept on 'their' airwaves, while most weren't considerate enough to even give me a reason. The project was eventually scrapped, but not before I learned a few valuable lessons about my local hams: If it's new and never been done before, it isn't welcome.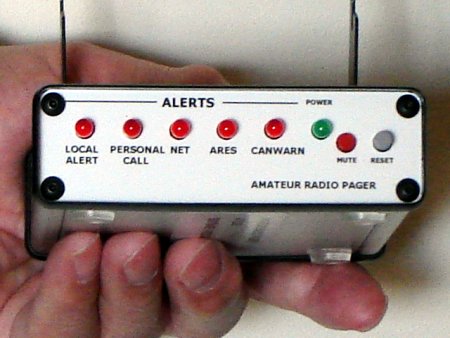 Thankfully, not all hams are as closed-minded to the idea. In the world of ARES and incident activation, it seems that some are realizing the potential for paging over the amateur airwaves. A recent article written by Bob Cooke VE3BDB on the Radio Amateur of Canada website described a nifty little invention by Bob Simpson VE3ODR and Jim Robinson, VE3JPR. Using the (more-or-less) already accepted mode of DTMF, this unit allows mutiple and specific alerts to be broadcast over existing airwaves using existing equipment. (click in image to see bigger)

While not exactly portable (it requires an external power supply and speaker for audio alerts), it's a step in the right direction. Another option some hams have toyed with is using existing commercial pagers in the ham bands. Some transmitters and receivers are able to be set to operate in the ham bands – getting a community already set against commercial equipment in the ham bands to accept it is a whole different story.
We here at Hamsexy support efforts to bring paging into the forefront of amateur radio. While we like VE3ODR and VE3JPR's efforts, we feel the unit should be re-designed to fit the true needs and priorities of today's radio amateur: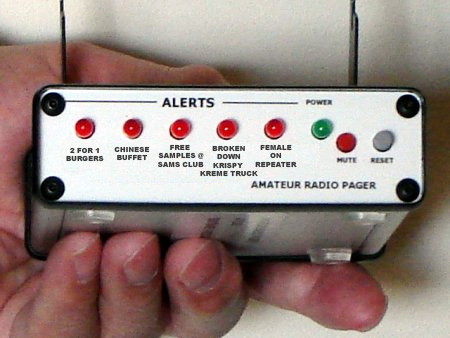 Perhaps…?