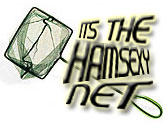 The Hamsexy Net is tonight! Huzzah!!
The net will begin at 9pm Eastern time, 6pm Pacific on IRLP Reflector 9008 and Echolink conference *VAN-IRLP*.
Net control will be Joey V KD8ATU, who will be taking the net live from the great state of Michigan, home of Motown, Chocolate City North and Michael Moore.
The theme for the net will be announced at net time.