More QRZ Comedic Gold.

A pretty funny posting near the bottom. Glen K9STH, one of the moderators on QRZ, has been seemingly randomly deleting posts from this thread with zero explaination or justificaiton except for a vague "look at our terms of use" (personal attacks, huh. It seems that the only personal attacks that have been deleted were ones that seemed to go against the QRZ management and friends). Then, suddenly, K9STH breaks into another post and informs user K8TKK that his questioning of the applcation of the policy is grounds for banning.
Wow – I didn't see "question the moderators" included in their terms of service as grounds of dismissal.The moderators, for their credit, are trying pretty hard to keep reigns on this thread – invoking their unwritten anti-Hamsexy policies without actually making it look like they are (citing "copyright infringement" and "harassment" as reasons to delete messages they really should not have).
I kinda like threads like this. One by one, people realize what kind of ulterior motives QRZ has in protecting their market share in advertising on Ham Radio sites (their words, not mine… their original justification for banning VE3HBD (in letters from QRZ management published on this site) was that the link to Hamsexy.com he had in his signature line was taking advertising dollars out of their pockets. (Hamsexy is an advertising-free site that's not even a FRACTION as large, popular or valuable to the Ham Radio community as QRZ is) . If QRZ is that protective of their huge clot of annoying, flashing and animated ads forced on you on every page, so be it.
We also like how Glen K9STH insults K8TEK for being a law enforcement officer and being a fan of Hamsexy. That should prove insulting to every public safety officer that we hold as friends of Hamsexy (and there are a lot of them) – including firefighters and EMS Paramedics – all of which we consider heros and public workers, and we choose to judge based on their actions and deeds rather than the websites they choose to visit. Shame on you, Glen. Maybe you should quesiton the web surfing habits of the officer that responds the next time you call 911 if it's that important to you)
People say that we're dumb and stupid for our 'whining' about QRZ. Hah. Call us whiners all you like, we're not going to turn down such grade-A comedic gold that the QRZ management continues to deliver us.
*** UPDATE BY VE3HBD ***
I'm guessing, once again, the normally level-headed Fred AA7BQ reigned in his sometimes out-of-control moderator team and ordered the removal of certain moderator comments from this thread (Remember the "Ham who denied military access to SATERN net" thread during Hurricane Katrina?). Most significantly, the comment where Glen K9STH insulted Tim K8TEK for being both a law enforcement officer and a fan of Hamsexy has mysterously vanished. If anyone's got a screencap or something of the comment so we don't end up looking like total idiots, please send it to us so we can preserve K9STH's disturbing comment as a reminder.
I want to echo Clyde's earlier comments by saying that we love and appreciate all members of Hamsexy, many of whom include members of America's law enforcement family, firefighters, Paramedics, all branches of the Armed Forces and everyone else on the front lines of world justice and liberty. Unlike others, we don't judge your morals, character or dedication based on what websites you frequent. We here at Hamsexy think that a better option would have been to apologize and retract the comments, rather than deleting them and pretending they never existed. Groups like ARES and REACT rely on hams who are also in the emergency services to remind those who might not know better of their valuable place in emergency communications.
Tim K8TEK is a Sheriff's Deputy in Ohio and is also a probationary fire fighter. He's also a good friend to Hamsexy and exhibits the highest of moral character and integrity becoming of his chosen profession. We take offense to the generalizations made by the QRZ.Com moderation team of his character because he not only visits Hamsexy, he is also a moderator on our message forum. The QRZ moderation team's comments insult not only Tim, but every public safety worker that calls Hamsexy home. How shameful.
We've also preserved a screencap of Tim's own reply to the QRZ Moderation team's allegations. We invite you to keep an eye on the thread to see if Tim's message vanishes like the offending comment.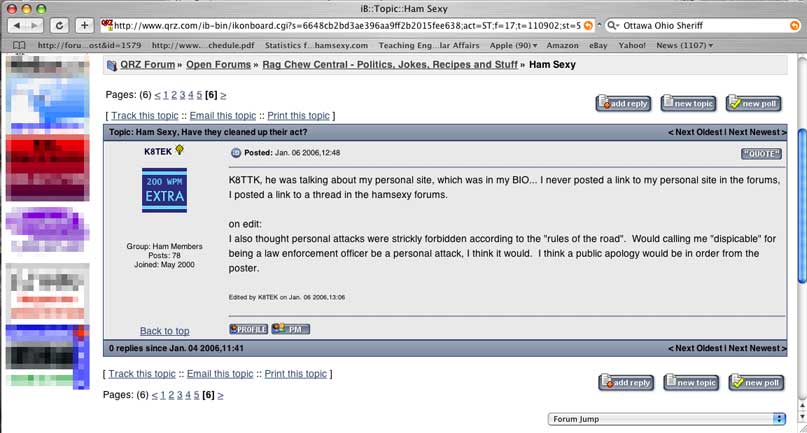 ** UPDATE **
His reaward for challenging the rules, and for calling Glen K9STH out on his anti-law enforcement remarks is bannination. K8TEK has officially been banned from QRZ.com. The wheel turns, and more people are educated about the true nature of QRZ's management. They are not only anti-Ham, they are also anti-law enforcement is appears (at least Law Enforcement who visits Hamsexy.com or any other site they deem 'Obscene").
Oh, and certain bitchy twerp suck-ups apparantly gets to use foul langauge on QRZ and get away with it (along with his abuse of other members while others get away with it). The QRZ double standard arises again.