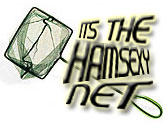 The usual Wednesday Night net will go live tonight! One and all are welcome to join us.
Please note the net's new time: 0230 GMT (2130 EST, 2030CST, 1830PST)
The net can be accessed via:
IRLP: Node 9008
Echolink: *VAN-IRLP* (remember the asterisks!!)
For those who want to listen but aren't hams or can't get access to either Echolink or IRLP, There are two internet streaming options: Terry VE3NSV's stream at http://ve3nsv.no-ip.org:8000/hamsexy.m3u, as well, the WARP Radio Network interrupts their local broadcasting to carry the net live: http://www.warp-radio.com.
Net Control tonight will be Yours Truly (Bryan VE3HBD).
After the net, join me for the DJ SPORADIC B SHOW on theWarp Radio Network. I'll be spinning your favourite songs from across genres and the vast reaches of time. Join us on the Warp Radio Chatroom to request songs and to chat with the rest of the listeners. Warp Radio is the premier internet radio station, and DJ Zath and the rest of the crew are great guys and gals who appreciate great music and great companionship.
Also remember to join us this Saturday for the Hamsexy Weekender VOIP Net! It's this Saturday at 1800GMT (1300 EST 1000PST)