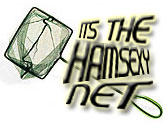 The Hamsexy Net is ON THE AIR tonight!!
There are two ways you can get on the net:
IRLP: Node 9008
Echolink: *VAN-IRLP* (remember the asterisks!!)
Unfortunatley, the live stream will NOT be up tonight – VE3NSV Terry is in the midst of a move, and refuses to drop everything to help you out. Nice guy, huh?
Instead, you can listen to the stream courtesy Matt KE4NOY at http://www.warp-radio.com. Thanks!!!
The net goes live at 0100 GMT (6pm Pacific, 9pm Eastern) tonight!!
Net Control tonight will be Bryan VE3HBD. The theme for tonight is "What is your favourite Beer"
See you tonight!