See? What did I tell you? I knew this posting would kick up some dust at QRZ.com.
VE9MP posted our famous "Half-Shirt guy" photo on the thread, and posted a link to Hamsexy. Of course, one of the QRZ mods (This time Glen K9STH one of the more anal mods) used the totally lame excuse of "Copyright infringement" to delete the entire message. Here's what he wrote:
A certain person just used the thread to make a minor attack on QRZ.com. The last post was on 14 January 2005 until the thread was brought back from the dead on 30 October.
I also wonder about the copyright on the photograph that was posted. Also, there is the "model release" that must be signed by the person in the photograph. Therefore, I am going to have to delete the photograph."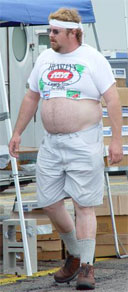 Glen Glen Glen…. Come on, man! If you're gonna edit messages, at least have the brass to admit why you're doing it! I can't even begin to describe how lame and obvious that is.
Just say "We don't allow links to Hamsexy, so I'm deleting it". Don't start on some bullshit nonesense about model releases or copyright. It's our photo, we own the rights to it, and we've got permission. Anyone can use it anyway they want.
And Glen – calling this post an "attack" on QRZ just reenforces what utter FEAR you guys have for Hamsexy. I should be shaking my head in utter disbelief, but in fact I'm flattered. I mean, you guys are QRZ… you guys are "it" when it comes to ham radio websites. You are Goliath and we are some dirt stuck on David's sandal. We aren't even in the same UNIVERSE when it comes to popularity, hits, etc. We don't even have any ads on our site. The fact QRZ is afraid of us just goes to show how completely out of touch Glen and the rest of the QRZ mods are. QRZ fearing Hamsexy is like Microsoft fearing some guy coding 3rd party printer drivers in Sri Lanka.