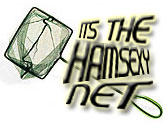 Well everyone, it has come and gone again. Dayton 2007. I personally enjoyed myself, and will upload pictures soon. Besides that, everything is back to normal, or at least as normal as they get, at hamsexy.
The topic is what did you get at Dayton, or as last week's net, why didn't you get your ass to Dayton.
Check-ins include
KI6DZU Rick
KE4NOY Matt
VE6PWT Robert
KC0RBC Harlend
KC9HZC John
K1HPD Allan
VA3FIS Robert
Same time same place next week!