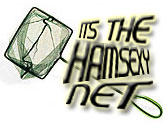 Like a set of chronic heart attacks all our OF friends have because of too many doughnuts while pretending to be cops, its time for the Hamsexy Net.
A great net net has come and gone as usual.
Topic was music. What you like or dislike.
Checkins include,
VE3HBD Bryan
K3BM Bob, Any music
N8FQ Joe, Classical
W8JUZ Laura, Classic Rock
KC8TCQ Keith, Musician, likes Jazz and progressive rock
KC8ZLK Daniel, Country and Bluegrass
KC0WFC Justin, Pink Floyd
KC7GQT Adam, 80s and 70s
VE6PWT Robert, Rock
KC0RBC Harlend, everything except Rap and Country
KD8EMM Ryan, Everything except rap
73s All, and we will see you next week!