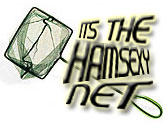 The Hamsexy Net was held Wednesday night, led (for the first time in a LONG time) by Bryan VE3HBD.
Here's the roster:
VE3HBD Bryan (Net Control)
VE3XLS Mike
N8FQ Joe
KE4NOY Matt
KC2LLT Carl
WB4ZCP Steve
KD8CPP Tyler
VE6PWT Robert
N5ZUA Steven
KD5QCZ Josh
K5FNG David
KC8ZLK Dan
KD8EMM Brian
Thanks to all who took part! See you all next week!