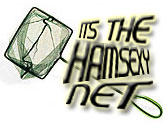 Well, Goober K3BM was supposed to do the net tonight, but he didn't show up, so I filled in.
The theme for this week's net was snow, ice, salt and sunspots. We got 2 checkins, after which I closed the net. 3 minutes later a few more people showed up, whose comments I accepted despite the net having ended 3 minutes prior.
N8FQ Joe Grand Haven, MI (net control)
KE4NOY Matt Murfreesboro, TN
VE6PWT Robert Calgary, AB
KC0WFC Justin Bismark, ND
KB3AWQ
N3LKA Brian
This post once contained a jab at K3BM, but apparently it was not taken in the light-hearted manner in which it was intended. Sorry if I offended anyone.