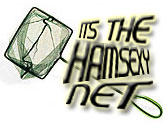 The topic for tonights net was: Other than the Hamsexy net, what are your local EchoLink/IRLP nodes used for?
This was, admittedly, a pretty lame topic. Checkins include:
KD8ATU Joe net control
KD8CPP Tyler
KC2LLT Carl
KE4NOY MATT
VE3NSV Terry
KD8EMM Ryan
VE6PWT Robert
N3JFW Seth
K3BM Bob
N3FH Ray
WA3BXH John
So there you have it. Net control next week will be James K2JSV. Hopefully he will come up with a more entertaining topic.
Note: I had deleted this post due to a flamewar that had erupted on the comments page. Since Bryan was so displeased about that, I have restored it.