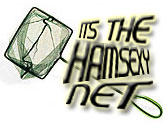 There's a vanity call for you…
The Hamsexy Net will be held once again this evening at 9 PM eastern, 6 PM pacific, and 0200 tomorrow morning UTC, on the Vancouver reflector. IRLP node 9008 and Echolink conference *VAN-IRLP*. You can also listen to the madness on the WARP Radio Network.
As of yet, we have not chosen a theme, or a net control operator for that matter. So join us tonight and be suprised by both.