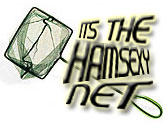 I am currently sitting in a Starbucks in downtown Tainan City, because my internet crapped out at home. Sigh…
Hopefully it's up by the time the net rolls around tonight – unfortunatley it can't be helped. If I am not online by the time the net starts, I would request that someone take it over (if they are so inclined) and let me know how it went. Accept my apologies.
If I *am* online, then the net will go forward!
Thanks to everyone while I try to get my shit straight here – I've pretty much adjusted to Taiwan, but working internet issues out is a pain… My landlady has made an arrangement with the guy upstairs to share his internet access in order to save money – but again, it's on a router. I have no idea of Echolink will even work for me.. but I will try…
Thakns to Jaymz who took the reigns last week… and thanks to everyone who's been so supportive…
Take care, and zaijian!