We got this photo from a group we like to call the "Canadian Hamsexy Goon Squad", posing behind the infamous C.O.V.E.R.T. whacker van (we got an e-mail from V.E.T.S. asking us to kindly stop associating them to the C.O.V.E.R.T. Whacker van…. we apologize for the association.)
Featured in the photo are: Alex (VA3GPL), Rod (VE3RTT), Scott (VE3RWL), Rob (VE3ESC), Mike (VE3XLS) and Taylor (VA3PIX).
This photo was taken at the imfamous St. Catharines hamfest, for some reason the most notorious hamfest of the year so far.
If you and your buddies want to appear on Hamsexy as your state's local goon squad, send the photo to us at the usual address.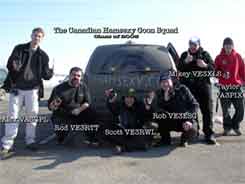 Click on the thumbnail to see the full-size photo!