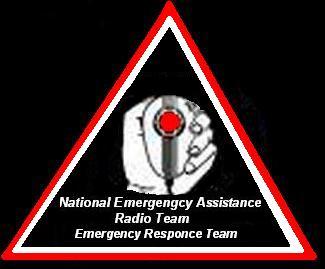 You know, sometimes we come across things that justify other things. The website of the group you are about to read about is *exactly* why Hamsexy exists.
Today, we will be shedding light on N.E.A.R. – the "National Emergency Assistance Radio Team" (Shouldn't that be N.E.A.R.T.?)
Boy oh boy. Where to start. Their logo is a bad rip-off of the REACT logo, and whoever designed their logo (and designed their website… and whoever writes messages on behalf of the group) has the English skills of a recent immigrant three year old retard with no arms. But I digress…..
Their website is pure comedic gold. It's so bad I had a really hard time believing that it's true. But… sadly… it seems to be. If retards like these are what is on the front lines of homeland security, we're all doomed. Check out this gem from their EOC page… some sort of generic terror alert obviously written by someone's young child:
The United State Home Land Security Has Issue a Threat Alert For The EastCoast of the United State A Threat Alert for the East Cost Of The U.SThat Inclueds New York Washtion DC The Threat Level has gon from Yellow Alert To a Ornge Alert Please be avised that Check points have ben setup in Bouth of these City and there Will be Street Near The White House and The Captel which will be closed allso Down Town New York Car are Being not aloud in the Wall Street The Public is being ask not to go in to The Wall Street becose of the Havey Security
The leader of this group (who calls himself the "Supreme Commander") seems to be the one with the superior english skills. He's posted a few times advertising this group, which can be found here and here. They also offer advice on how to start your very own CERT team.
The group (and the site) appears to have been dormant for some time, but when you read the press release announcing the formation of the group, it's easy to understand why. Would you put your life in the hands of someone who specializes in "surch & rescut"?