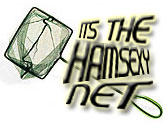 And another net is in the history books.
The topic for tonight's net, courtesy of Carl KC2LLT, was: "How far is too far? The severity of uber-whackers in today's society." How many antennas can one have on their vehicle before they are assumed to be insane? Is an amber lightbar ever acceptable to have on something that isn't a tow truck, snow plow or similar vehicle? Is there any good reason to own a reflective vest that says "emergency communications" on the back?
We had 7 checkins from across North America:
N8FQ Joe (net control)
KE4NOY Matt
KC0RBC Hambone
WB4ZCP Steve
KC2LLT Carl
VE6PWT Robert
W8JUZ Laura
KD8CPP Tyler
The net began when Matt notified me that we were live on WARP at 9:01 PM, and ended after all comments had been noted at 9:19 PM. Net control next week will be James K2JSV, so you all have that to look forward to.