Reprinted from the ARRL without permission (http://www.arrl.org/news/stories/2010/01/18/11293/)
Dominican Hams Attempt to Install Repeaters in Haiti
Eight members of the Radio Club Dominicano (RCD) — the Dominican Republic's IARU Member-Society — and Union Dominicana de Radio Aficionados (UDRA) arrived in Haiti on Friday, January 15, to install an emergency radio communications station and a mobile station. Shortly after they arrived, the hams returned to the Dominican Republic for safety reasons.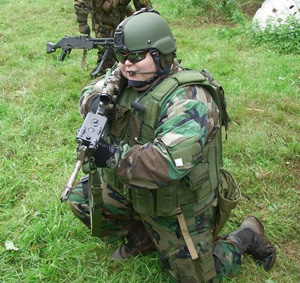 team — using the call sign HI8RCD/HH — had to shut down their operations after their convoy was fired on. Germinal Garcia, EB9GF, who is integrated in the Spanish Red Cross contingent, was able to contact colleagues at the RCD. According to IARU Region 1 Emergency Communications Coordinator Greg Mossop, G0DUB, the RCD initially reported that their team crossed the Haitian border at 1550 UTC, time arriving at the Dominican Embassy in Haiti at 1929 UTC when they started installing and testing their equipment.
"Within a few hours though, reports via the RCD Facebook page — confirmed by a long telephone conversation between Hugo Ramón, HI8VRS, and Ramon Santoyo, XE1KK — reported that the HI8RCD team of eight amateurs were back in the [Dominican Republic] border town of Jimani," Mossop said. "Their convoy, which included other non related Dominicans, was assaulted and one person is reported dead. The radio amateurs are uninjured, but they decided to leave the capital for safety [reasons] and return to the border unescorted. They report the situation as 'extremely unsafe.'"
On Saturday afternoon at 2104 UTC, Rafael Martinez, HI8ROX, posted this to the RCD's Facebook page: "I regret to inform you that the communications equipment is returning to Jimani due to the lack of security that there is in Haiti. The convoy was attacked as the team was leaving the embassy, with several wounded people confirmed. I do not know how many. For the moment, our equipment is safe, but I'm not sure." Martinez is the RCD's Web master.
On January 19, Martinez told the ARRL that two non-ham members of the team suffered "bad injuries," but no one had been killed, as had been reported earlier: "The gentleman who was behind the RCD convoy was very severely wounded (not deceased), although the first news was that he had passed away. The gentleman only is very severely wounded along with another person."
The team was able to install two VHF repeaters in the Dominican Republic linking that country's capital — Santo Domingo — and Port-au-Prince, but only one is in operation: 146.880 (-600), CTCSS 100 Hz. Mossop said that these repeaters are being used by the Red Cross and Civil Defense "since there is no other way to communicate. The station at the embassy in Haiti could not be activated. To confirm, all members of the RCD team are safe and have returned to Jimani in the Dominican Republic."
On the morning of Monday, January 18, Martinez wrote that "the equipment that was returned to Santo Domingo is all being sent to Jimani and then sporadically to Port-au-Prince."