First of all – I'm sorry that the site hasn't been updated lately….. things have been pretty hectic here at Hamsexy HQ… We promise that it won't take thirteen weeks to get what we want (plus a fifteen processing period). I've got a pile of stuff that I need to work on getting onto the site, but hey… like I said.. I've been busy.
Anyhow.. got this great e-mail from Frank KI4IJQ today… I thought I'd share it with you:
So I do the network and servers for some Lan-Parties (www.lan-zig.com) here in South Florida, and we use MURS fot the staff for communications since only two of us have amateur licences, I use my VHF M-RK, and we have an assortment of other radios like Kenwood's and ICom's… M-RK's are also the radios the county police use, but they are on 800 trunked (why else have one? lol)… anyhow one of our sponsors is an energy drink called "Sum Poosie" (shrug I know, but I digress) as part of theirmarketing they use rather attractive models… when one of them showed up, I looked at my M-RK and thought… hrmm, LiFi (look important feel important duh) + hot chick = hamsexy!
So after asking her nicely I snapped one for ya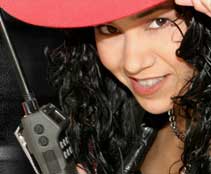 (click to see fullsize photo… you'll be glad you did!)