Thanks to everyone who particiapted! Here's the net check-in list:
VE3HBD in Toronto, Ontario (Net Control)
VE7RXT – Sean in Chilliwack British Columbia
VE3LT – Tom in Niagara Falls, Ontario
VE4UO – Shaun in Winnipeg, Manitoba
KD7LVX – Steven in Las Vegas, Nevada
W0NKA – Shane in Fairbault, Minnesota
N3TOY – Jamie in Las Vegas, Nevada
N0VSJ – Colin in Las Vegas, Nevada
KD7SGM – Tom in Las Vegas, Nevada
K8TEK – Tim in Ottawa, Ohio
VE3NSV – Terry in Kitchener, Ontario
VE1MGA – Mark in Oldham (!!) Nova Scotia
N9FSE – Steve in Millwaukee, Wisconsin
W9ORN – Barb in Hubertis, Wisconsin
VE3ESC – Rob in Toronto, Ontario
VE9ATQ – Lakeville, New Brunswick
VA3TSG – Ted in Whitby, Ontario
K9JAC – Jack in Hubertis, Wisconsin
KC0URM – Nick in Fairbault, Minnesota
N0PQK – John in Fairbault, Minnesota
KB9KHF – Bill in Chicago, Illinois
W1NAU – Timpthy in Boston, Massatwoshits
W0ODS – Jeff in Coggon, Iowa
W0AMY – Amy in Coggon, Iowa
KD6IDN – Paul in Las Vegas, Nevada
KG9GP – Roger in New Berlin, WI
VE3ESC – Rob in Toronto, Ontario
VE3XLS – Mike in Toronto, Ontario
VA3BU – Dave in Brampton, Ontario
VE3ECM – Richard in New York City, New York
And, of course, Slimdog
Sin City was well represented this net – thanks guys! Get back to the tables, and get the hell off the radio.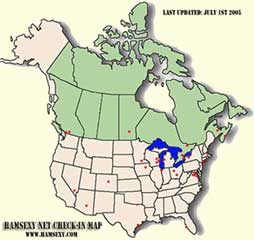 If you want to see a map showing all of the check-ins that we've had on the hamsexy Net since we started, check out the hamsexy net map page. I'm working on making it a little more user friendly….